Welcome Home ~ call 773.263.0996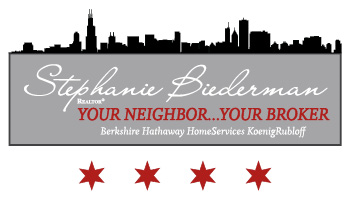 Stephanie brings over 25 years of sales experience with both a business and a relationship approach to real estate. A home is one of, if not, the largest portion of a person's financial portfolio and a very personal transaction. Stephanie understands the various stages of homeownership and lifestyle and what fits her clients needs.
Whether you are buying, selling, investing or relocating, Stephanie has the knowledge and resources to get the job done. Stephanie's professional resources stretch from lenders, inspectors, architects, contractors, carpenters, designers, landscapers, and stagers who are available to assist her clients. Stephanie has the expertise to guide her clients through the market changes and processes.
Stephanie understands the different neighborhoods and lifestyles of her clients to consult with them. Stephanie and her husband are raising 3 children in the city and knows how to navigate through the neighborhood public and private school sytems to the best fit for her clients. Stephanie lives in Southport Corridor in Lakeview and her youngest child attends Blaine Elementary School where her oldest 2 graduated. The oldest graduated form Lincoln Park High School IB program and now attending college out east for engineering. Her middle child is a junior at Lane Tech High School.
Stephanie is on the Board of Directors for the Lakeview Chamber of Commerce and enjoys helping her community prosper. Stephanie is an active supporter of the Chicago Canine Rescue which rescues dogs (and cats) for adoption.